Ankit Vani
PhD candidate at Mila, Université de Montréal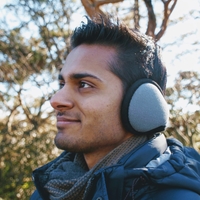 ---
E-mail:


Github: ankitkv
I am a PhD candidate at Mila, Université de Montréal, under the supervision of Aaron Courville.
My goal is to improve our understanding of the principles underlying intelligence. My current research seeks to find new methods for systematically reasoning about the world. However, I'm also interested in the theory of deep learning and representation learning in general.
Education
Ph.D., Machine Learning, Université de Montréal, ongoing
M.S., Computer Science, New York University, 2017
B.E., Computer Engineering, University of Pune, 2013
Research Interests
Systematic generalization
Reasoning and memory
Deep learning theory
Publications and Preprints
Jose Gallego, Ankit Vani, Max Schwarzer, and Simon Lacoste-Julien. GAIT: A Geometric Approach to Information Theory. arXiv:1906.08325 Preprint, November 2019. [pdf]
Ankit Vani, Yacine Jernite, and David Sontag. Grounded Recurrent Neural Networks. arXiv:1705.08557 Preprint, May 2017. [pdf]
Ramakrishna B Bairi, Ankit Vani, Pooja Ahuja, and Ganesh Ramakrishnan. Categorising videos using a personalised category catalogue. Proceedings of the 2nd ACM IKDD Conference on Data Sciences (CoDS 2015): March 2015. [pdf]
Research Reports
Ankit Vani. Emergent Structure for Systematic Generalization through Iterated Learning. August 2020. (advisor: Aaron Courville)
Ankit Vani. Adversarial Discrete Sequence Generation. November 2017. [pdf] (advisor: Rob Fergus)
Ankit Vani. Adversarial Objectives for Text Generation. December 2016. [pdf] (advisor: Kyunghyun Cho)
Ankit Vani and Vighnesh Birodkar. Challenges with Variational Autoencoders for Text. December 2016. [pdf] (advisor: David Sontag)
Ankit Vani and Srivas Venkatesh. Adjustable Text to Image Synthesis. December 2016. [pdf]
---
Other details on my Mila profile.
---
double l[]={2.237245047823e-312,3.01793166842199e-307};main(){(1[l]+=*l)?printf(l+1),1[l]=-*l,main():puts(l);}
---